What is spectator mode and How to use it in the Age of History 2?
I know that sometimes it's more fun to watch the gameplay rather than actually participating in it. You can also do it in Age of History II by using the spectator mode. The spectator mode allows you to sit down on the couch and watch the whole gameplay, drag the map, and monitor the strategies applied by different countries. This feature brings forth a lot of learning opportunities for players who are new to this game. They can learn the mechanics of this game, analyze game strategies of different players while enjoying the game.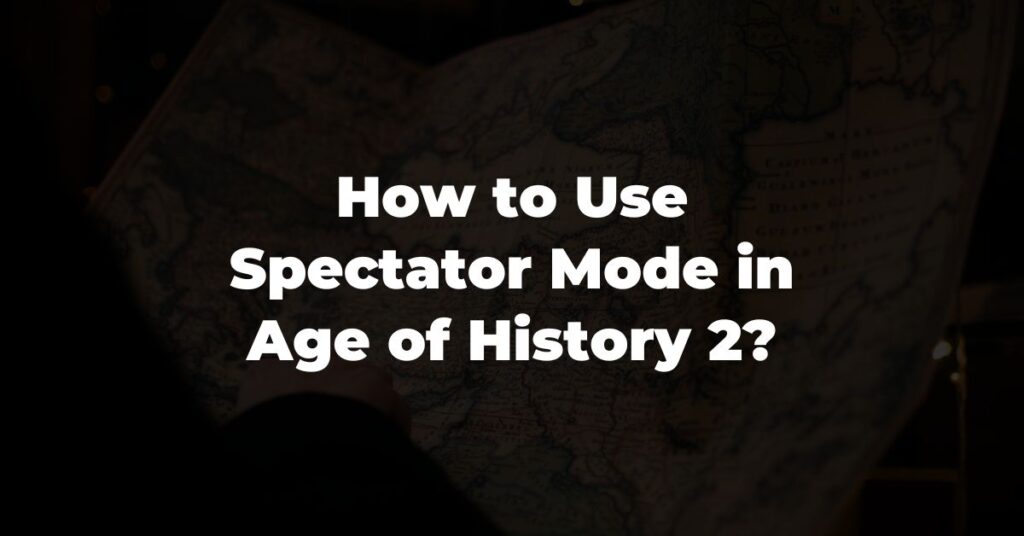 Players who are already into this game can use this feature to collaborate with other players from the community or their friend circle. This is really an amazing option so let's find out how you can use it in age of history 2.
How to Use Spectator mode in Age of History 2?
To act as a spectator in age of history 2, you'll have to enable the option first. Go to the Scenario, you'll see a button labeled as "Options". Clicking on it will open a new list of options. Scroll down to the bottom, and you'll see an option to enter the spectator mode.
Things to keep in mind:
There are some important points about this option which you need to acknowledge. The first one is that If you're playing a game, and you choose to spectate, you can't turn off the option. Yes, the game will be over from your side. So we would suggest you to not use this option if you're playing a critical match which you can't risk losing as some matches can have a huge impact on your progress in the game.
Advantages of Spectator Mode:
Age of History 2 is a principled game that provides opportunities to learn how diplomacy works, how you can form political strategies, how to lead military troops etc. Aside from these, the spectator mode can also help you overpower the game. Some advantages and benefits are talked over below:
Learn how the game is programmed:
When the game is on autoplay mode, a programmed computer algorithm is working behind the scene resulting in what you see, like the game is automatically setting technology points, adding restrictions on other civilizations, sending warriors to different territories etc. By analyzing the behavior of gameplay, you can find out the strategies and techniques which are effective in the game and can bring good results.
Unearth special approaches:
By observing the game itself as a player, you can surely detect a way of working that you or even the whole community haven't examined before. If you're successful in finding one, it can give you an edge in the gaming community. You can even outrank the professional players of the community.
Ideas to create custom scenarios:
AOH2 editor provides you with the option to create custom scenarios. You can use this option to observe and gather ideas to create a custom scenario in age of history 2. With deep observation, knowledge, and critical thinking, you can make an outline for a Custom Scenario. This will be a value addition in the game, as well as giving back to the age of history/civilizations community.
Watch Spectator Mode Guide: